Every so often I find a story where a human has been a dog's best friend. I will highlight some of them here and, at the end of the year, visitors to my page will select a winner. If you see a random act of kindness by humans to us cold-nosed, four legged types, please let me know.
---

Fargo, ND (AP) - When a 3-year-old chocolate Labrador retriever named Maddy got tangled in a 10-foot rope securing a trampoline floating on a lake, owner Matt Tollefson didn't think twice. Tollefson dove in after her.
When he dragged the dog's lifeless body out, Tollefson again didn't hesitate. Her eyes were open and her tongue hung to the side of her mouth. Tollefson performed CPR. "She's part of the family," Tollefson said. "If she's going to go, she wasn't going to go like that."
Tollefson alternated compressions on Maddy's chest and blowing air in through her snout. "Instincts just took over at that point." Tollefson said he took a first responders course in college but is not sure how he knew to blow air through her nose. He said he may have seen it on TV.
Two minutes into it, Maddy showed signs of life. A veterinarian the next day diagnosed Maddy with aspiration pneumonia and a chip fracture in her shoulder from the compressions.
The dog is a little swollen and is taking two steam baths a day to help her recovery. She is also on antibiotics.
"Maybe she doesn't, but it seems like she looks at me differently," Tollefson said. "She's still the same dog. There's just more of a bond now."
July 26, 2004"

West Bridgewater, MA (Reuters) - A police officer brought a stricken dog back to life by performing mouth-to-mouth resuscitation on her furry muzzle after she was hit by a car, the officer said on Monday.
Patrolman Thomas Richmond said Cinnamon the pit bull terrier was technically dead and her owner was "hysterical" when he arrived at the scene of the accident last Wednesday.
"She had been hit in the chest area. All four of her legs went out and her heart was not beating. She was dead", the officer said.
Richmond, who owns a dog himself, immediately started to perform cardiopulmonary resuscitation (CPR) on the lifeless animal alternately pressing on her chest and breathing into her muzzle.
"It took me seven or eight tries but to my amazement, she opened her eyes and started breathing," he said, adding that he transported Cinnamon to a local animal hospital.
"She's fine. She has some nerve damage but no broken bones. It's a miracle," he said.
July 16, 2002

London (Reuters) - A seal saved an elderly dog from a watery grave after it was swept away by fierce currents in a fast-flowing river in northern England.

Eyewitnesses said the dog, who appeared to be injured before hitting the water, scampered into the River Tees and tried to swim to the opposite bank -- but the current got the better of him.

Suddenly, a seal appeared from the depths and gently pushed the dog, a German Shepherd, into mudflats on the bank.

"I've never seen anything like it and I don't think I ever will," eyewitness Chris Hinds told Reuters Wednesday. "This seal just came out of nowhere. It was like the guardian angel came up.

Hinds took care of the dog until emergency services arrived after Tuesday's rescue.

No owner was immediately tracked down and the dog was being looked after by the RSPCA animal charity. The charity named the dog "Seamo" after David Seaman, the goalkeeper of England's World Cup soccer team "because it was a great save."

Seals are not known for friendliness to dogs, but the RSPCA said they were naturally inquisitive creatures and it could have been just playing.


June 20, 2002

BERLIN, Germany (Daily Telegraph) A group of animal-loving German bikers has won a legal battle for the right to swerve to miss small creatures in the road.
The bikers went to court after a judge ruled that car drivers had to run over small animals that might be staring into their headlights, or risk their insurance cover.
In March, a Berlin court heard that a 71-year-old man driving through a village braked suddenly when a dachshund ran into his path.
The driver behind him could not stop in time, collided with the car in front and sued the man for the damage done to his vehicle.
The judge said the insurance company did not have to pay, reasoning that, "according to the rules of the road, emergency stops are normally only allowed when the driver or other road users are in serious danger.
"This risk does not include a dachshund running across the road because such a small dog can be run over without any danger."
Animal protection groups and the dachshund breeders' association were furious, saying the judge had decided that a dent on a car was more important than a dead dog.
Now the bikers in Hamm, western Germany, have won a ruling that motorcyclists will still be insured if they swerve to miss an animal.
November 2, 2001

MIAMI (Sun Sentinel) The young Rottweiler shivered as cars whizzed by her on Interstate 95.
Minutes before, she had flown out a car window, tumbling a dozen times into the highway's northbound traffic near the Sheridan Street exit. She was able to stand up, head to the outside wall, and place her bloody front paws over the wall, peering at the embankment about 20 feet below.
"She was terrified," said Wendy McKinnis, who stopped after she saw the dog go out the window.
She jumped. "We thought she was dead." McKinnis said she was driving next to a burgundy Honda Accord at about 8 p.m. Tuesday when she saw the driver's side window go down and the Rottweiler come out, wearing a leash and collar.
The driver did not stop, but other motorists did. They included McKinnis, who was with her boyfriend and two children in the car, a retired animal cruelty investigator and two tow truck operators who spent nearly two hours trying to rescue the dog.
"They stepped on the gas," she said. "They just left her there to die."
The tow truck operators decided to go find the dog, calling out as they crawled through the swampy grounds. The pair found her and walked her out of the embankment.
Broward County Animal Care officers arrived as the two were walking out and picked up the dog.
"The dog was so happy, wagging her tail," said Leslie Mann, who rescued animals in New York for 18 years before she moved to Davie.
"Who could make sense of why anybody would want to hurt an animal in such a way? Yet often people see animals as being disposable."
The dog, which is 1 or 2 years old and weighs about 60 pounds, is at Broward County Animal Care. She will be held there for at least three days while officials investigate what may have happened to her, and she could then be placed up for adoption, said marketing director Allan Siegel. He said the owners could be charged with animal cruelty.
December 13, 2001

CLEVELAND, OH A woman claims that after two men assaulted her Thursday, her dog came to her rescue.
The woman said that the two men suddenly appeared in her Hamilton mobile home's hallway, according to WLWT Eyewitness News 5's Anu Prakash. She tried to escape, but the men dragged her to the ground and assaulted her.
During the assault, the woman claims that she blacked out. When she came to, the two men were gone, but she found herself gagged and bound hand and foot.
Baby, the woman's dog, came to her rescue. The dog gnawed the binding off the woman's hands. She was then free to call 911.
---

CHILTON, WI (USA Today) A retired tool and die maker bequeathed more than $500,000 for a new animal shelter and $5,000 to his schnauzer Bozo. Robert Hansen's bequest comes as the Eastshore Humane Association prepares to break ground on a 4,500-square-foot building to replace its current home in the basement of a veterinary clinic. Hansen, who earned a Purple Heart as a tail gunner in World War II, apparently told no one about the gift before he died Nov. 15 (2000) at age 78, sister-in-law Leora Hansen said.



---

NORTH BAY, ONTARIO Whimpering and gasping for air, her neck tightly entwined in a tangled phone cord, a puppy named Lacy did the only thing she could do to save her life. She dialed "O" for operator.

Lacy had apparently gotten wrapped in the cord while playing and started to choke. Fortunately, the phone was dislodged and knocked on the sofa. And, apparently during her fight, she hit the "O" key on the phone.

The operator heard the cries of the pup and called 9-1-1. The dispatcher traced the address and sent the police.

Constable Dan Robertson was able to squeeze through a window, unwrapped the phone cord and saved Lacy's life. Robertson cut himself getting through the window and required 9 stitches.

That's Lacy and Dan Robertson at right.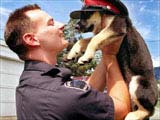 ---

DETROIT, MI (Detroit Free Press) Ato, the dog on death row who disappeared from a humane society shelter last week, is safe, an animal-rights activist said Sunday.

Gary Yourofsky, founder of Animals Deserve Absolute Protection Today, said Ato is living in a home, but declined to say whether the dog had left the state.

"Ato is safe and he is alive," said Yourofsky of Royal Oak, who says ADAPTT has 1,850 local members. "Justice has finally been served. We don't put humans to death for biting. Ato was simply protecting his home and property.

Last year, 15th District Court Judge Julie Creal Goodridge ordered Ato destroyed as a vicious dog after biting a paperboy in August 1998.



---

BENCIA, CA (San Jose Mercury News) Gretchen Burgess was barking mad when she heard that dogs might be banned from fairs and festivals in Benicia. So the animal activist took on another crusade for canines last week. Three years after she succeeded in convincing the city it needed a dog park, she called everyone she knew and packed city hall last week.

"As a dog lover and a dog person, the summary of the ordinance was almost offensive," she said from her Benicia home, as her dogs Bianca and Rowan barked in the background.

The ordinance said "the presence of dogs at fairs causes discomfort and annoyance to vendors and participants." "It made my hair stand straight up," Burgess said. "There was no way I could let that go."



---

LIMA, PERU (AP) About 200 dog owners marched their barking pets through Peru's capital to protest the killing of Venancio, who was shot to death by a man who said the Staffordshire bull terrier bit his 11-year-old son in the park.

The protesters said the dog, who was on a leash and away from the youngster at the time of the shooting, had only wanted to play with the boy and his ball.

"The march is to protest the cowardly assassin who targeted my dog," said Venancio's owner, Hector Rospigliosi.



---

JOHANNESBURG, South Africa (Reuters) - South African pet lovers have started an air bridge for cats and dogs caught up in the violence in neighboring Zimbabwe.

Spurred by television footage in April of farm pets being beaten to death or maimed by war veterans invading white-owned farms, the Johannesburg-based Wet Nose Animal Rescue Center stepped in.

"We saw the visuals on television and thought we need to get in there and help. There has been just so much trauma," Wet Nose President Tracey Forte told Reuters.

The center's spokeswoman, Elmine van der Merwe, said seven dogs and two cats arrived in South Africa Tuesday and more were expected soon. "We have a permit to bring out 100 animals, but we want to bring out more than that," she told Reuters.

British Airways has donated space on three flights from Zimbabwe to South Africa for 10 pets at a time, she said.
---

NOCKAMIXON, PA, Just like humans, man's best friend also sometimes need blood transfusions. "The first thing people usually say to me is they never realized dogs needed transfusions," said Donna Oakley, whose dog bloodmobile stopped in this Philadelphia suburb over the weekend. "The second thing, they ask how they can help. It's amazing how receptive people are." Potential doggie donors are tested to make sure they don't have infectious diseases. Candidates also must be more than 50 pounds, between 1 and 8 years old and up to date on their vaccinations.
---

BERLIN (Reuters) Berlin police stood down from three days of high alert Tuesday when Germany's head of state called off a citywide manhunt -- or rather doghunt.

First Dog Scooter, President Johannes Rau's schnauzer cross, turned up on the street and was handed in by a concerned citizen alerted by regular radio broadcasts. He had strayed from the garden of Rau's villa.



---

My husband, Mike, was on his way home from work one day, when he saw a little dog (Pomeranian) running back and forth across a busy two lane road. He was afraid the dog would get killed so he stopped traffic in both directions and tried to catch the dog - running through brush on either side of the road.

Needless to say she was scared. Well, the dog darted under a stopped car and wouldn't budge. So Mike crawled under the car (which was quite hot by the way since it had been running) and got the dog. In her fear she bit him in the hand and gave him a deep puncture wound. By this time the police and dog warden had arrived, as well as the family that had been looking for the dog for two hours.

Seeing the blood all over Mike's hand, the warden asked if the dog bit him. Mike saw the family.. and a little girl crying (because she was upset about her dog) and knew if he said yes, the dog bit him, the dog would be quarantined for 10 days. He didn't want to have the dog taken away from its family. So.. he told the warden that no, the dog didn't bite him.. it was a cut from a stick or something. He then gave the dog to the family and talked to the owners who "swore" that the dog was up to date on its shots. Mike said to have the dog checked out to make sure it was O.K. and to have the vet call him with confirmation that the dog was up to date on its rabies shots.

The next day the vet did call and said everything was okay with Dixie the dog. That made Mike happy. The family was very grateful that their dog was saved. Mike's hand ended up getting infected - and swelled to twice its size.. but he went to the doctor and got some antibiotics and now he is all better.

(Submitted by a visitor to Fozzie's page.)



---

In York, PA, Mark Hatterer rescued Scotty,a Scottish terrier, that had fallen into a septic tank. Hetterer wiped most of the muck from the unconscious dog's snout and gave mouth to mouth resuscitation until he came to.- USA Today

Thanks, Mark. You are truly Scotty's best friend!



---

In Melbourne, Australia, when Susie was about to have pups the Mundy family put a box in the garden for her to use. Susie had other ideas and when the time came she crept under the house for a suitable place to nest.

As she worked further under the house she left puppies stranded in the dark behind her.

Fortunately, Mark Mundy, age 9 (1.3 in dog years), went under the house to rescue them. He later said he was worried about spiders, but he did find two pups. Still, Susie was out of reach and, apparently, still dropping pups.

The fire department was called and a fireman joined Mark under the house. They directed other firemen who pried up boards of the house and got Susie and her pups.

Everyone is relieved Susie and her pups are safe, but the Mundy's have resolved it won't happen again - Susie will be paying a visit to the vet.
---

In Uniontown, PA, Timex was given a lethal injection and put in a freezer for 24 hours at the Fayette County S.P.C.A. shelter. When the freezer was opened the next morning, Timex came out.

It was discovered that the injection was not given by a veterinarian and Timex was not checked to make certain he was dead.

Debbie Berry, former Treasurer of the Fayette County S.P.C.A., and Paula Lappe, the group's lawyer, resigned in protest of the conditions at the shelter and the treatment given Timex. Timex has now been adopted by a family with a farm.- National Enquirer
---

In Los Angeles, a woman is suing to overturn the will of her companion, who died and left his Beverly Hills home to Samantha, his 13-year old cocker spaniel. Marie Dana, 32, lived with wealthy bathroom fixture manufacturer Sidney Altman, who died in 1996 at age 61. In his four-page handwritten will dated 1994, Altman left his home and $350,000 to Samantha, identified as his "loving companion," said Cary Goldstein, Dana's attorney. The will asked Dana, his "good friend," to be Samantha's guardian for $60,000 per year. Altman also gave Dana an additional $50,000 to redecorate her house and go on a "massive shopping spree at Polo." But once Samantha dies, the arrangement with Dana is canceled, with the house and estate going to charity. Dana's attorney asked a judge to award the woman $2.7 million from Altman's estate. Superior Court Judge Gary Klausner did not rule immediately. He has urged both sides to settle out of court.

From USA Today



---
Go Back