The Tradegy of Iditarod
Causes of death during the last ten years have included strangulation in towlines, internal hemorrhaging after being gouged by a sled, liver injury, heart failure, and pneumonia.
"Sudden death" and "external myopathy," a condition in which a dog's muscles and organs deteriorate during extreme or prolonged exercise, have also been blamed. In 1985 a musher kicked his dog to death. The 1975 Iditarod winner, Jerry Riley, was banned for life in 1990 after being accused of striking his dog with a snow hook (a large, sharp and heavy metal claw). In 1996 Rick Swenson's dog died while he mushed his team through waist-deep water and ice.
The Iditarod violates accepted standards regarding animal cruelty as is shown by the laws of 38 states and the District of Columbia. These 38 states and the District of Columbia have animal anti-cruelty laws that say "overdriving" and "overworking" an animal is animal cruelty. The California law is typical:
597. Cruelty to animals. (B) Every person who overdrives, overloads, drives when overloaded, overworks... any animal... is, for every such offense, guilty of a crime punishable as a misdemeanor or as a felony or alternatively punishable as a misdemeanor or a felony and by a fine of not more than twenty thousand dollars ($20,000).

--Animal Welfare Institute, Animals and Their Legal Rights
The dog deaths and injuries in the Iditarod show that these dogs are "overworked" and "overdriven." If the Iditarod occurred in any of these 38 states or the District of Columbia, it would be illegal under the animal cruelty laws. Unfortunately, the State of Alaska's animal anti-cruelty law does not say that "overdriving" and "overworking" an animal is animal cruelty.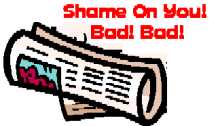 Let 'em know they've been bad. Iditarod.
There is, of course, more than one side to a fire hydrant so here is another take on the Iditarod. Thanks to Lindsay for submitting it.
I liked most of your website, but I think that in your hall of shame you don't understand all of the facts about the iditarod. See, a lot of people who are against the iditarod hear a lot of things from other anti iditarods and think the iditarod must be just so terrible to dogs. And all of the those "i hurt a dog" or other comments like that from rich new yorkers and people like that who've probably never even been out camping in their whole life don't understand the truth either. Everyone says that mushers over exhaust their dogs to death, and I'm not lying when I say dogs HAVE died in the iditarod, but it's not that much different from humans either. Three years ago I was running in cross country and a girl collapsed from exhaustion and had to be taken to ER. Dog deaths aren't common in the iditarod either, and mushers die too. The iditarod DOES have an anti-cruelty law, and dogs must be maintained in good condition and if they deteriorate in condition they are "dropped" at a checkpoint so they are not forced to run outside of their physical limits. Iditarod dogs are not abused. Just like any athlete they train for years just to do this one race. It's not like you would wake up in the morning and say "hey, I think I'll run the iditarod today, even though my team's not ready". Mushers WON'T ebter the iditarod if their team isn't ready and able to run. As for their anti-cruelty law, any musher will be DQ'ed if they cause any unneccesary pain or suffereing to the dogs, that includes: kicking, beating, punching, choking, dragging, starving, and anything else that will hurt the dog. All dogs that die must have a necropsy done to rule out abuse. And before each race, each dog MUST have a physical exam, bloodwork, proof of all vaccinations and worming, microchip implants to track the dogs so they can save it if it gets loose, and an EKG all done by a certified vet or they can't race. Dogs with epilepsy, fainting spells, and prgnancy can't race. They also must pass a pre-race exam by the chief vet. The very first words written under Rule 47 - Expired Dogs is "No dog death is acceptable". There is also a vet at every checkpoint. Now you can see the iditarod IS against cruelty to animals, I think you should see it from the dogs point of view. I have a competitivesprint racing team, I have four dogs, and I work at another sprint kennel, and the owners go to alaska every winter for racing. Their dogs ARE NOT neglected!!!!! They always have water available, their kennels are kept clean, I rarely see a poop! They are fed every day, and the owners even installed an irrigation system 5 feet off the ground to keep the dogs cool in hot weather. The kennel is in the forest, so they have shade, their nails are trimmed, they are very friendly, they do take their dogs to the vet, their vaccinations are current. Anyways, dogsledding is what these dogs live for. They love it - you should see it when they spot a harness or a sled, they all go crazy! You can't hear ANYTHING above the noise the dogs make! It sometimes takes 5 people to hold down a 6 dog team because they have to wait for the race official to tell them they can go. Sometimes, when the dogs are being brought in, their owners have to pick the dogs up because they sit down and refuse to go back to the truck because they want to keep running! They love it. Well, I have to go now. Please write back with your comments now that you know the truth about the iditarod!
---
The good guys: Sled Dog Action Coalition
PAWNOTE:
I wrote to PetPlace.com and toldthem I didn't like the way they glamourized the Iditarod. This is the response. - Foz
Dear Fozzie,

We appreciate you forwarding your comments regarding the Alaskan Iditarod to our attention. PetPlace.com remains committed to being the leading destination on the internet for pet news, health, and well-being.

Therefore we are currently producing additional articles that will discuss the pros and cons of the Iditarod. PetPlace.com strives to provide unbiased reporting related to all issues that affect animals typically owned as pets.

Thanks again for your interest in PetPlace.com. We look forward to you becoming a frequent participator in the PetPlace.com community.

Sincerely,
PetPlace.com Customer Service