Fozzie At Westminster
After exposing "terrier-gate" last year, I had to get back to New York and report on the Westminster Kennel Club Dog Show. I arrived on Sunday, February 10 as I wanted to cover everything and, hopefully, bring you some exclusives.
First of all security was incredible. Even though I was wearing my dog tag all of the time, security dogs must have sniffed my butt 50 times. There was one sheltie that I think was enjoying the job a little too much. The first day they caught me trying to sneak in a pig ear, but I was able to get it back at the end of the day and it had hardly been chewed.
Monday morning started with a disturbance at the entrance to the Garden. An American Water Spaniel, an Irish Wolfhound and 2 Old English Sheepdogs were blocking the entrance so the Afghan Hounds couldn't enter. A French Bulldog and Siberian Husky were taking the side of the Afghans and the Swiss Mountain Dog didn't want to get involved. Why do politics spoil everything? Finally a human offered all of them some liver and everyone went in the arena.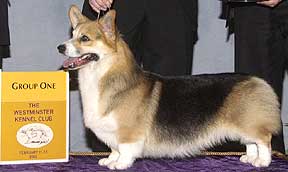 Here is a picture of the Pembrooke Welsh Corgi that won the Herding Group. His name is Ch Foxlor Shafrhaus Sammy Sosa. He was born Decem,ber 18, 1998. I tried to interview him but was disappointed to find he spoke very little Corgi. He kept saying how baseball had been good to him and he wanted to go back to a Wrigley Field, whatever that is. I guess that must be where he likes to run around and chase things. I have a field like that too.
Well, after Sammy Sosa took the group honors, I was all set for the finals. A Corgi on top, finally. Humans were finally rejecting those slap-yappy terriers that win so often and they were going to pick a real dog. A dog that works. A dog that's a companion. A real dog.
Well, was I in for a surprise! Not only didn't the Corgi win, but the winner didn't even look like a dog. Ch Surrey Spice Girl a miniature French Poodle from Pennsylvania won the top prize. The thing looks like some kind of canine topiary.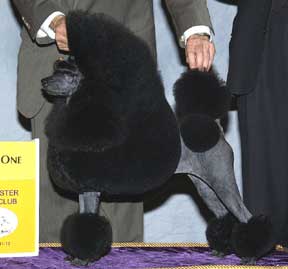 For God's sake at least put some pants on! The rumor around the pound is that the judge, W Everett Dean Jr, had been manipulated by a figure skating Siberian Husky.
Well, we'll see what happens next year.